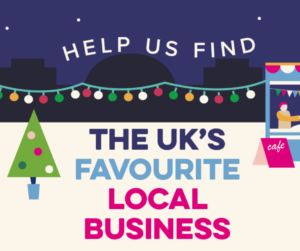 Ilkley loves its independent businesses! In a recent national competition to find the UK's favourite local business, Ilkley beat most other towns and cities across the UK in the number of nominations submitted.
In total, there were 298 nominations for 24 businesses in Ilkley with The Grove Bookshop receiving 78 nominations in total and a place in the top ten of favourite businesses across the country. They receive a Finalist badge which they can display proudly in their shop window.
Also featuring in the top twenty was Nigel Akid Bodyshop, a car repair and paint shop based in East Parade in Ilkley.
Hurst of Isle of Wight, a home, DIY and garden retailer, was crowned the UK's Favourite Local Business with 517 nominations, followed by Chester Boutique in second place and Bill & Bert's Gifts in Colchester taking third place. The Grove Bookshop came an impressive sixth and Nigel Akid Bodyshop fifteenth.
Other Ilkley businesses that were nominated were as follows:
Althams Travel, Attic Womenswear, Booths, Dan's Den, Dillons Premium Fitness Training, Friends of Ham, Fuggle & Golding, Galo's Kitchen, Ilkley Shoe Company, La Stazione, Leap into Languages, Lishman's of Ilkley, Mortens, New Brook Street Deli, Nora's Interiors & Gifts, Outside the Box, Pranzo, Tennant & Darragh, The Little Teahouse, The Vine Restaurant, Toast and Tyler James Pet Supplies.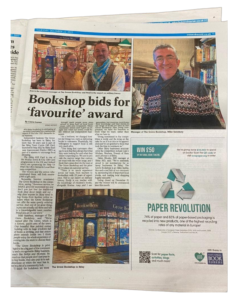 Manager of The Grove Bookshop, Mike Sansbury, said: "We're absolutely thrilled and also very touched to have received so many nominations from our customers. It's just wonderful to know that we're playing our part as a community hub and we're proud to have been a finalist in this national competition."
Helen Rhodes, Ilkley BID Manager, said: "We're really delighted that people took time out of their busy schedules pre Christmas to nominate a favourite business and to shine a light on shopping local, and we're particularly proud that, as a small town, Ilkley was in the top five of all towns and cities across the UK.
"The variety of businesses nominated demonstrates what a thriving independent retail and hospitality sector we have in the town and illustrates how loyal and passionate its customers are. The businesses are the hub of our community with friendly, knowledgeable staff who go that extra mile and together they make our town a vibrant and welcoming place to live, work and visit. But we must never take them for granted, as in the current economic climate, they need our support as much as ever."
The competition to find the UK's Favourite Local Business was the latest drive to encourage local shopping in the town through the Ilkley Gift Card, an Ilkley BID funded and run initiative.  It was backed by Miconex, founders of the Town & City Gift Card concept, whose managing director, Colin Munro, said:
"Ilkley's success in the UK's Favourite Local Business competition shows just how valued local businesses are in the town. Reading through the entries for Ilkley, customers praised the friendly, knowledgeable and hard-working teams. They showed their appreciation for the quality products and attentive service on offer. And they wrote about what a pleasure it is to have these businesses in their town. It is clear that Ilkley is blessed with some fantastic local businesses, and it is these fantastic local businesses that make the Ilkley Gift Card such a great gift."
89 town centre businesses now accept the Ilkley Gift Card, including shops, salons, restaurants, cafés, attractions and services and there were bumper sales recorded in December with people choosing to buy the gift card as Christmas presents.
Consumers can buy the card pre-loaded with any value from £5 to £500 at the Visitor Information Centre or they can pick up a card at selected retailers to load at home as well as buying online at www.ilkleygiftcard.co.uk.
All the details can be found on the Discover Ilkley website: www.discoverilkley.co.uk