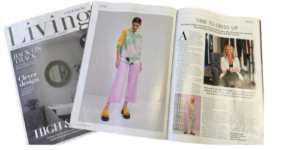 Last year, Ilkley BID produced press pieces for some of our local businesses to help them promote a specific event they were running. The BID wrote the articles and following their business approval distributed them to our local press contacts as well as Ilkley Chat and Rombalds Radio for maximum exposure.
Some of the recent press articles have included a feature on the Martinez Wine Extravaganza, a charity event for Mint Velvet, news about the Ilkley Macmillan Fashion Show which showcased some of our local retailers, a piece on The Grove Bookshop which was nominated for a national competition to find the UK's Favourite Business, as well as a feature on Ilkley's health and wellness businesses in conjunction with the Health & Wellness event we held in September.
Ilkley BID has also produced specific 'Behind the Scenes' PR pieces for local businesses to use as part of their own promotional activities as well as being featured on the Discover Ilkley website and social media channels. These articles are more in depth about the history and people behind the businesses and have included showcases on Cooper's of Ilkley, Dillons Premium Fitness, Attic Womenswear, Hartley's Auctioneers, Martinez Wine and Pure Pilates.
If you would like help promoting an event in the press or a PR 'Behind the Scenes' article, please contact us.