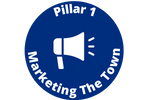 Under Pillar 3 we are committed to developing maps/visitor guides and trails to enhance the visitor experience. In June 2022 Ilkley BID began to distribute the new town centre map to various locations including the Ilkley Tourist Information Centre.
Thanks to local supplier and BID member; Westbrook Agency, the map has been carefully put together to showcase the local attractions and landmarks around the town centre and Ilkley area.  Businesses and retailers have not been added to the map to prevent the printed leaflet becoming out of date. This would occur if a business closes, re-brands or moves premises and we already promote and showcase the businesses, retailers and hospitality venues on various digital platforms: the LoyalFree app, the Discover Ilkley website and the Discover Ilkley App.
In addition to the Tourist Information Centre the map is available to download from the Discover Ilkley Website.
We have distributed the following:
10,000 via Northern Print Distribution to various hospitality venues around Yorkshire including hotels, guest houses and tourist information centres, to encourage visitors to Ilkley.
500 via gift bags given out at Ilkley Pride on 2nd July 2022.
Handed out to visitors at the Real Food Ilkley Market on 3rd July.
Have arranged for them to be displayed in local accommodation venues.
The leaflet has been utilised to promote:
The Ilkley Gift Card with a QR code for quick access to purchase online.
The Discover Ilkley Website where BID businesses are listed.
2022 events.
The Discover Ilkley App.