Available to Voluntary BID Members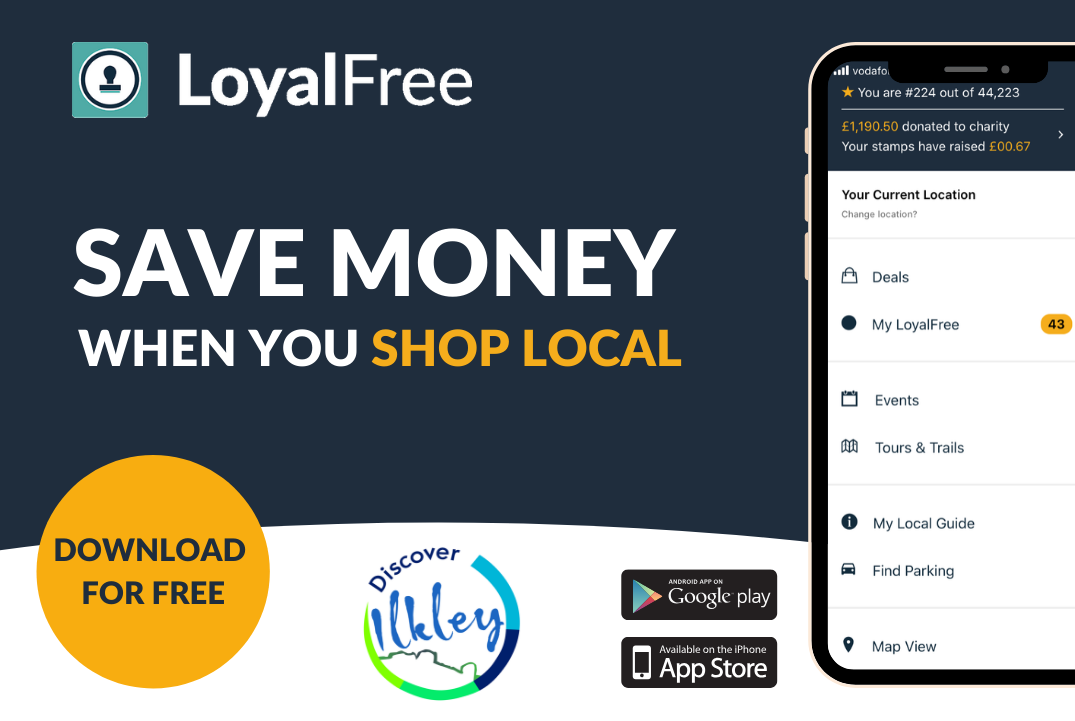 Ilkley BID have partnered with the award-winning place promotion app LoyalFree to provide free advertising for local businesses. This service is free for all Ilkley BID levy payers and is simple to set up. The app is up and running in 30+ towns and cities so far and you can easily see a demo of the main features of the app here:
https://www.loyalfree.co.uk/demo
 or download from the Google/Apple app stores.
The app will promote various aspects of Ilkley; the tourism information, business offers, event listings, interactive trails and more.  Levy Payers will benefit from:
FREE Advertising of offers and events to locals and visitors with the option to run a 'loyalty stamp' scheme where possible.
Customer insights through a live dashboard.
Click throughs to your website, social media, reviews and more.
Featuring in local LoyalFree trails on the app, e.g. Open for Business, Vegan, Family Friendly, Best Independents etc.
Selling products or vouchers online without commission through the LoyalFree Marketplace.
How to get involved:
There are many ways for you to get involved with the app now. It is vital we populate the app with as much information as possible so we can launch this to the public and start to help your business and increase sales as soon as possible.
Find more details below of how to make use of this BID funded service.
Offers
The best offers are ones that are exclusive to the app, simple or loyalty stamp based (done digitally). In these times, we are aware this may not be immediately possible and in the short term we can promote online deals for you. Many cafes may also opt to do a loyalty scheme on takeaway drinks as they open as all that is required is a QR code (that we provide for you) for customers to scan with their smartphone.
Examples include:- 6th coffee free- 10% off when you spend £20+
To register your profile  please send an email to info@loyalfree.co.uk in the following format:
BID area: Ilkley
Business name:
Offer / loyalty scheme: (if you don't have an offer yet leave blank)
T&Cs
As soon as you are set up you can login to your profile and add/remove any offers you would like to promote.
Interactive trails: have been the most successful way to gain and engage app users and work well with visitors as well as locals. The 2 main functionalities at present include 'Voting' for a favourite location on a trail or 'Checking In' by scanning at numerous locations to complete a trail.
Marketplace:  The LoyalFree Marketplace allows BID levy payers to sell products online, without any charge or commission except a small payment processing fee. So if you don't have an e-commerce website or want to avoid large fees on other platforms, this is perfect for those who would like to sell products, gift vouchers or future experiences.  More information will be available shortly, but do let the BID know if you think this is a service which would be good for you.
Events:  If you have events in the future you'd like to promote you can send these directly to info@loyalfree.co.uk to be added to the app.
Shortly after you sign up you will receive an email with your login details and further information. The app will be promoted through local social media, events, billboards, press, competitions and through local employers in the area.