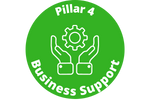 To help address rising costs and assist businesses in reducing their carbon footprints, Ilkley BID has partnered with industry experts Beyond Procurement to bring a suite of free guidance and support to members.
As an Ilkley BID member help and support is available to you and your business offering support to help tackle the cost and climate crisis that all businesses are currently facing, including a review of your business expenses and where you can save money, free webinars on business costs, and advice on carbon reduction and green loans.
Arrange for an audit on your existing costs and contracts to ensure you're not paying too much on core business expenses.  There's no obligation for you to switch to a new supplier and if they can't find you savings and you get peace of mind that you're not over-paying. 
Energy
Merchant services
Water
Telecoms
Insurance
Pest Control
Waste Management
Business Training

Free Webinars and Business Health Clinics
For general business issues, BID members can attend free business health clinics to discuss procurement issues with experienced professionals.
BID members can also attend free specialist webinars to address current market issues.
These include;
Energy Crisis support
General Business Cost Reduction
Commercial Benefits of Carbon reduction
Carbon reduction and Offsetting – A how-to guide
Waste and recycling quick wins

Business Grants, Green Loans and Free Advice
Across the UK there is a multitude of support to help businesses reduce their emissions and become greener. This can be confusing and sometimes overwhelming for businesses when searching for support.
Beyond Procurement, can find out what is available in the Ilkley area and business sector and pin this to our roadmap to Net Zero. They will clearly advise what is available and valuable to you depending on where you are in your journey and what you want to achieve.
They are also aligned to high street banks where there is additional support and green loans available to businesses looking to improve their operations.