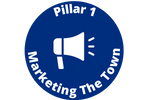 Ilkley BID arranged for LocalTV to film about the established independent retailers in Ilkley.
Tennant & Darragh Jewellery Workshop, 5th Avenue Fasions & Times Menswear were featured in the short film that was aired on local tv channels: Freeview, Virgin Media and Sky TV (within the Yorkshire loop).
Dates aired: repeated frequently from 6pm Wednesday 23rd March – Sunday 27th March.
The film has been plublished on the Discover Ilkley YouTube channel and shared accross Social Media Channels for further exposure.