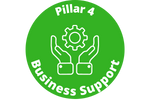 llkley BID arranged and funded professional photography for many BID businesses using a local photographer.
The service offered two fully edited shots, with the option to purchase further shots at a special discount of £15 each or pay for an additional hour with the photographer for £95 and receive all the photographs from the shoot.
The photographs can be used for all digital purposes including, website, social media and marketing collateral.
In year one, Ilkley BID allowed funding for up to 10 businesses per month on a first come, first served basis.