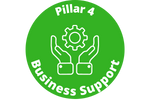 Ilkley BID have arranged for the Summer Safari trail in collaboration with the LoyalFree app. Running from August 11th to August 28th, this remarkable initiative aims to entice visitors to explore the vibrant town centre. Visitors will embark on an interactive journey that will take them through the heart of the town, where they will uncover captivating facts about African wildlife and discover hidden gems in local businesses.
12 shop windows around the town centre will display a poster which holds a QR code, waiting to be scanned, revealing answers and displaying interesting knowledge of the African animals. With every scan is an automatic prize draw entry for a chance to win a £25 Ilkley Gift Card. The more locations scanned, the greater the chances of winning.  In addition to this there is a secret anagram quiz where participants have to collect letters along the way. Unscramble all the letters to reveal a hidden word for a chance to win an additional prize funded by the LoyalFree app.
The main aim is to attract visitors and families to the town centre, increasing footfall, and showcasing the BID businesses along the trail route.