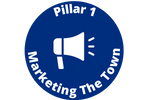 Ilkley BID arranged for LocalTV to film about the independent coffee shops and cafes in Ilkley.
The aim of the film was to showcase all our cafes and coffeeshops to promote the town as a great place to visit.  The film covers shots of all our independent cafes in the town centre and three cafes were interviewed: Thirty nine Cafe, Avanti and The Greenhouse.
The short film was aired on local tv channels: Freeview, Virgin Media and Sky TV (within the Yorkshire loop).
Dates aired: repeated frequently from 6pm Wednesday 30th March 2022- Sunday 2nd April 2022.
The film has been plublished on the Discover Ilkley YouTube channel and shared accross Social Media Channels for further exposure.