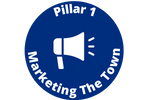 Ilkley BID were the headline sponsor for the 2022 Ilkley Carnival which included large banner advertising in the Main Event Arena and a full page advert to promote Discover Ilkley in the printed programme.
Not only did sponsoring the event help and support the Ilkley Community it also promoted the Ilkley businesses and helped us to showcase the Ilkley Gift Card, the Discover Ilkley App and the Discover Ilkley Website.
The carnival attracts so many visitors to the town and this was an ideal opportunity for the BID to promote the Discover Ilkley branding and grow awareness to a wider audience.
A QR code for the Ilkley Gift Card was included in the advertising to encourage people to click, find out more and purchase.
"I just wanted to say you have been a fantastic sponsor this year. You have engaged with the whole build up to the Carnival with your social media activity, which is fantastic for us and greatly appreciated. " Andrew Stacey, Chairman, Ilkley Carnival