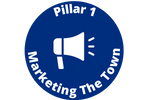 As part of our commitment to market the town and encourage footfall, we teamed up with LeedsTV to create a film to promote the fantastic nightlife scene in Ilkley and showcase the great restaurants, bars and pubs available to residents and visitors to the town.
The film features Colin at Friends of Ham who was interviewed for the film and shots were captured inside The Olive Branch, The Ticket Office and Fuggle and Golding.
The key message of the short film is that Ilkley is a great night out whether you are coming for a few drinks, having a meal or watching a show and this can be seen as the film captures many venues and the various interesting and exciting choices of evening entertainment and hospitality options available.
The film is being aired on local TV channels: Freeview 7, Virgin 159 and Sky 195 between Wednesday 27th April and Sunday 1st May on a rolling loop within the Yorkshire region.
All the Discover Ilkley films are available to watch now on the Discover Ilkley YouTube channel here →